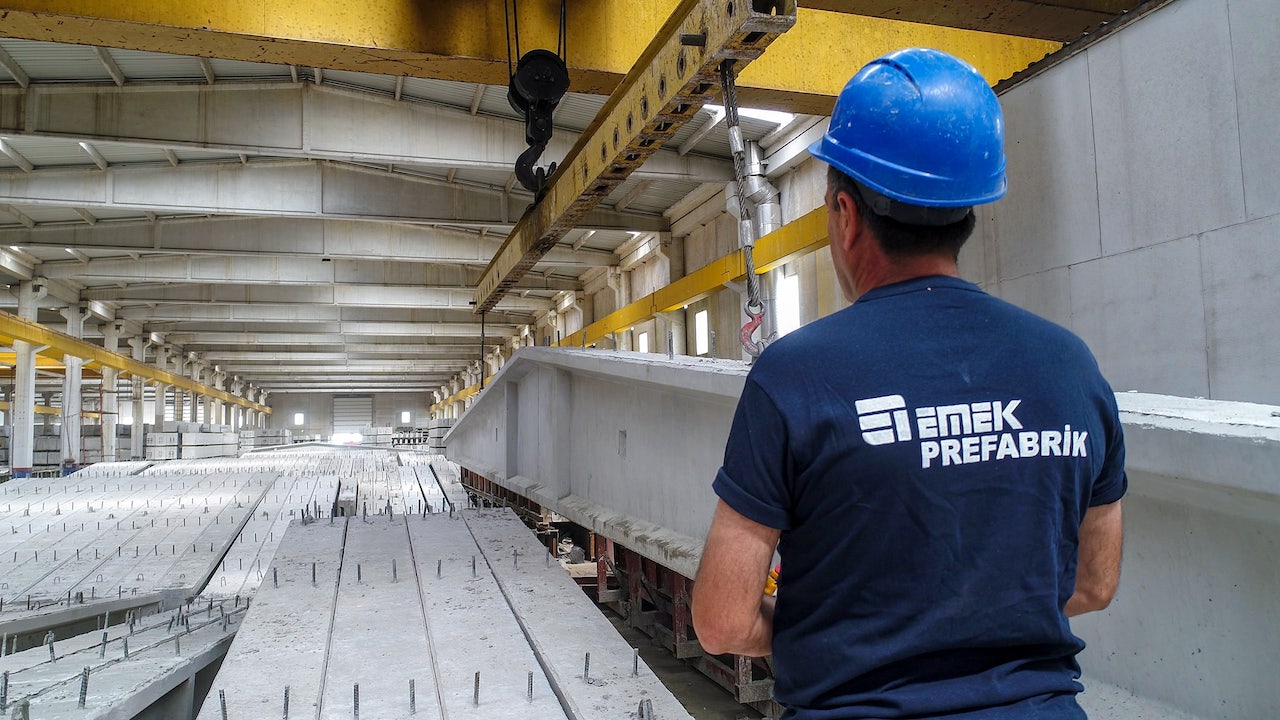 In parallel with the process of industrialization in our country, Emek Prefabrik was established in 1996, in Çerkezköy Veliköy Industrial Area, to manufacture Prefabricated Reinforced Concrete Building Elements. Since its foundation, our company has successfully completed its construction contracting services in the fields of private housing, housing estate, cooperative housing, mass housing construction and plant construction for public institutions and organizations.
Our facility is established over a land of 24.000 m² of which 15.500 m2 is closed and 3.000 m2 is open production area. The technical equipment and machinery consists of 5 units of 15-ton, 2 units of 20-ton and a 25-ton travelling crane in 5 halls including 4 closed and one open hall, a fully-automatic bunker concrete plant with a capacity of 50m³/h, concrete testing laboratory, press, oven, mixer and other equipment, steam system, prestressing machine and moulding system, 86 units of steel moulds for various prefabricated building elements, convector and vibration system, iron cutting, bending and wire mesh bending machines, loaders etc.
In our production facility, prefabricated reinforced concrete building elements are made of high-quality steel and concrete, in steel moulds in prestressed and non-prestressed forms. Our facility has an annual production capacity of 26,000 m³ and is capable of producing 70,000 m² facade panel with and without heat insulation, 80.000 m² mezzanine floor panel and 240.000 m² carrier system elements per year. Holding the TSEK 118 Precast Reinforced Concrete Building Elements Quality Management System certificate, our company carries out its works in accordance with ISO 9001/2008 quality assurance system. Only, The materials with TSE and ISO quality certificates, are used in the manufacturing of Prefabricated Reinforced Concrete.
The static concrete calculations and projects of the prefabricated reinforced concrete carrier system and building elements are carried out in accordance with the TS 498 and TS 3233 construction standards, the TS EN 13369 standard for Precast Concrete Products and General Rules and the TS 500 standard for the calculation and construction of reinforced concrete structures in force. 
In order to respond to customer requests and needs, our company has adopted the principle of quality at every stage of the work and determined proper communication, accurate planning and implementation of technological requirements as the company policy. Our objective is to become more efficient and ensure the continuity of quality with advanced construction techniques by following innovations in each field of service we offer.
With this objective, our company has the TSEK quality and manufacturing qualification certificate and the ISO9001/2008 quality assurance certificates, and carries out its manufacturing works in this direction. Prefabrication for your industrial buildings is the right choice and the right investment process which will help you have a fast, high-class, economical and fixed-cost facility. There is no place for surprises in prefabrication. No difference occurs between a project and its implementation. Moulds are standard, while the sizes may vary. In the works we carry out as EMEK PREFABRIK, customer satisfaction is a must.
Producing precast prefabricated building elements "WITH MAXIMUM EFFICIENCY, ON TIME AND ACCURATELY AT EACH STAGE" enables us to solve the problems before they arise, by controlling the activities carried out in all processes from design to delivery of the product and to increase customer satisfaction by providing adequate assurance on the basis of the regulations and standards in force. The senior management of EMEK PREFABRIK YAPI ELEMANLARI INSAAT SAN. TIC. LTD. STI undertakes the establishment of quality management system and continuous improvement of its implementation and effectiveness in this direction. In this regard, the company intends to;
• Produce the most appropriate solution to meet customer expectations in the quickest way possible without any mistake,
• Increase the value the company adds to its customers, solution partners, employees and society with the contribution of its dynamic and participatory management approach,
• Fulfil the requirements of the quality management system with a continuous self-renewing, developing and more efficiently functioning method,
• Achieve its stable growth target by using its resources at maximum efficiency by enabling customer-oriented quality concept,
• Fulfil its responsibilities to the environment and society,
• Exert the necessary effort to create a safe work environment that prevents occupational accidents,
• Protect the image of the reputable and reliable company, EMEK PREFABRIK.